The Stimpack Survival Guide to Product Analytics
In any business, understanding your customer and how they're using your product is a critical component of growth and success. But for busy entrepreneurs, gathering and analyzing customer data can be a time-consuming process. Luckily, modern Analytics solutions make it easier than ever to get the insights you need without headaches. Product & Marketing Analytics tools are options that can help entrepreneurs easily access the data they need to make informed decisions.
We beforehand covered the fact that Solopreneurs & Startups would greatly benefit from pre-launch platforms. Time to dive more deeply into the advantages of leveraging Simple Analytics to support your next bold yet informed startup moves.
At Stimpack.io, we believe that Marketing Analytics are at the epicenter of Startup's Growth: they should be simple and reflect actual traction.
The Power of Marketing Insights for Startups
Product analytics tools make it easy to track and measure user data, giving entrepreneurs an overview of how their customers are engaging with their products. They provide crucial data points such as metrics like active users, user engagement, and user retention. Accessing this data provides entrepreneurs with powerful insights into their customers and their product. It can help them identify problem areas and determine where improvements can be made.
In a fast-paced AI-first market environment, startups can leverage the Analytics they collect. Indeed, a couple of decisions can be taken depending on the data, for instance:
Validate a new product idea based on measured traction.
Decide to pivot in case of unmet expectations. Eventually, experiment with a new business direction or idea.
Identify strong points and areas of improvement in the traditional acquisition funnel, ie: a high conversion rate with a low retention rate.
Decide to optimize operations when retention stabilizes.
Identify new prospects and ICPs after segmenting or clustering some funnel acquisition data.
Reinforce funnel touchpoints and sales opportunities.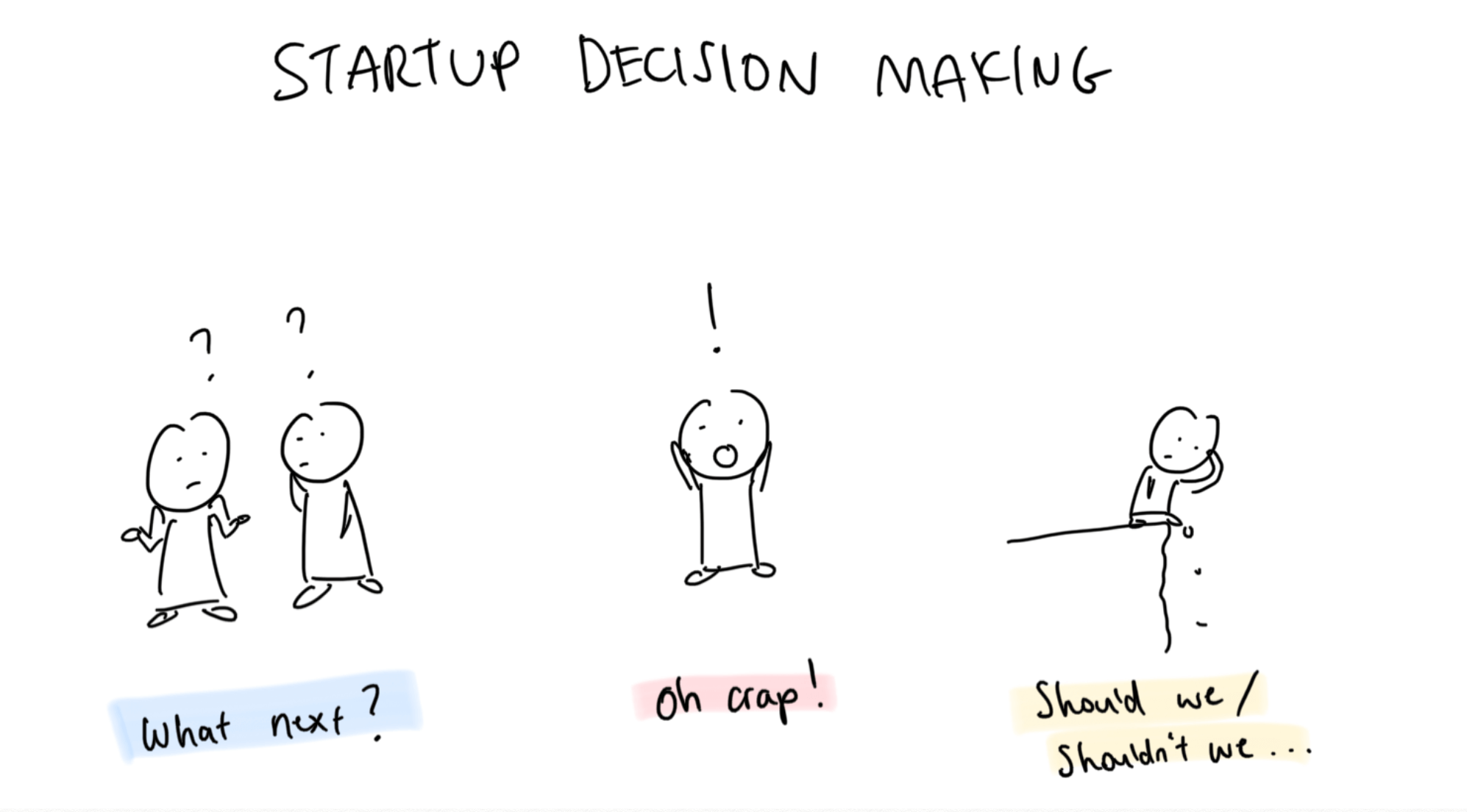 Startups and solopreneurs tend to be busy with Execution
Product analytics also helps entrepreneurs understand their customer's behavior and preferences. For instance, entrepreneurs can access helpful insights such as the most popular pages or features, what types of content users are most likely to submit, and how different types of users respond to different features. This knowledge is an invaluable asset that helps entrepreneurs make better decisions and continue to innovate their products.
In terms of operations, Startups, and solopreneurs must aim for efficient processes and routines in order to overcome a huge workload. Indeed, startups need a "cadence" to succeed. Rhythm is key, and driving operational decisions or avoiding wasted work can be done by leveraging simple product analytics. For example, no need to focus on a feature nobody uses after having A/B tested it.
Working in a startup environment requires a lot of dedication: most founders and employees work about 50-100 hours/week. Putting things into perspective and taking time for strategic thinking can feel overwhelming. In order to avoid this kind of situation, better have a strong analytics framework with precise KPIs. Regularly checking them will give you the big picture in the blink of an eye.
Finally, taking real-time informed decisions on a daily/periodic basis is key to ensuring data freshness and contextually relevant business decisions.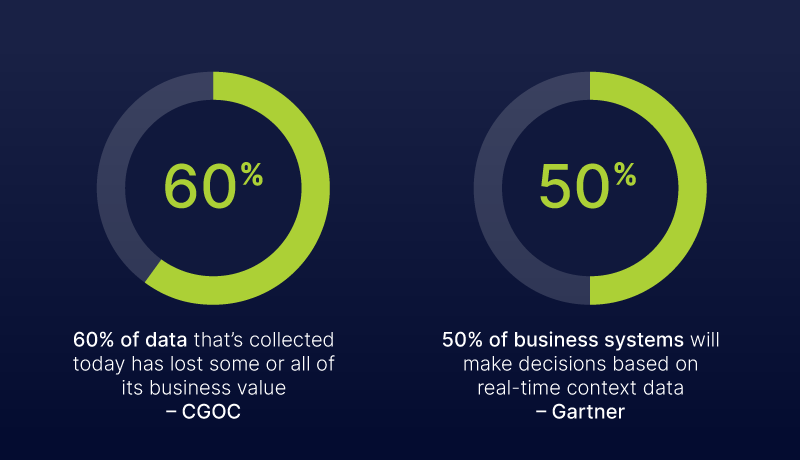 We advise you read more about Operations and Speed in Startups.
Who directly benefits from Startup Analytics?
Everyone in your team can benefit from Simple Analytics:
as a CEO, you'll be able to support your vision with evidence and decide which direction your startup will have to take. Moreover, you may directly re-use the KPIs for your Pitch Decks in the event you're raising external funds. Supporting your next Product pre-launch with analytics will prove to be greatly beneficial.
as a Marketer or CMO, you'll precisely measure traction and ensure your acquisition funnel's working. You'll reinforce its weak points and understand who's using your product and how. Your goal is to make sure PMF (Product-Market Fit) is reached.
as a Product manager, you'll mainly focus on Product Analytics and the way the product is used (or not used).
as a Finance professional, you'll focus on conversion, retention, LTV, and CAC. You may even be able to forecast incoming revenue in predictable scenarios.
finally, we the multiplication of AI tools and the exponential growth of its Market, we feel AI professionals will surely benefit from adequate product & user behavioral analytics.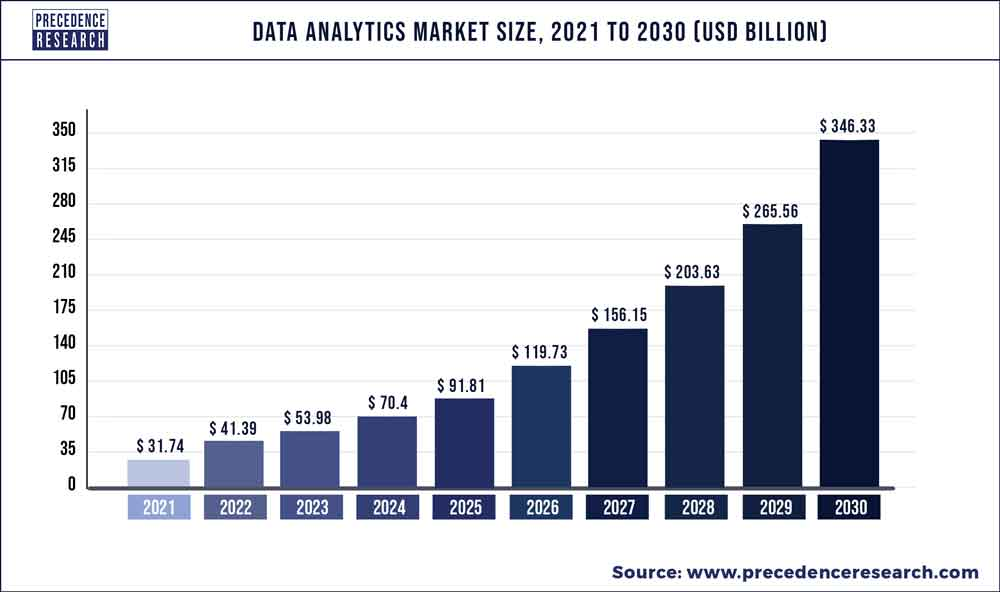 Differences between Marketing and Product Analytics
The core difference between product vs. marketing analytics is that Product analytics focuses on optimizing the customer experience post-purchase. Marketing analytics, however, deals with everything pre-purchase and enhancing a marketing campaign to generate high-quality leads and increase conversions.
You can think about Marketing Analytics as insights into demographics, segmented users & markets. On the other hand, Product Analytics will focus on user experience and user journeys.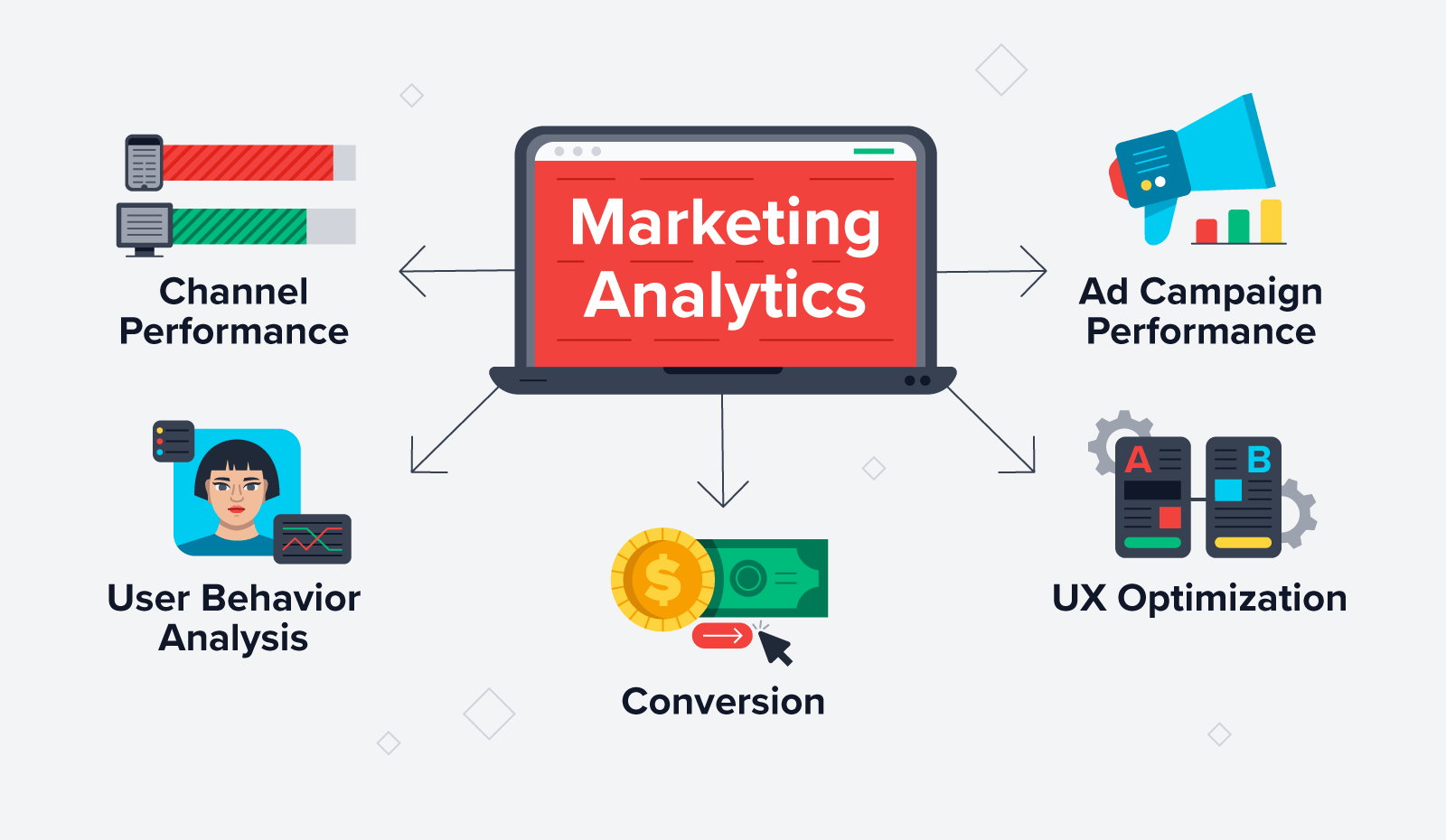 Marketing Analytics promises
Marketing Analytics promises to answer some critical questions related to a Startup's marketing efforts, including:
How effective was a particular advertising campaign? The same applies to organic traffic and acquisition.
Which are the sources our Startup's traffic comes from?
What is the ROI (return on investments) generated from marketing campaigns?
Where could additional marketing activities be used to increase sales?
What is the customer's Lifetime Value (LTV)?
How can customer loyalty be maintained? This one is particularly crucial.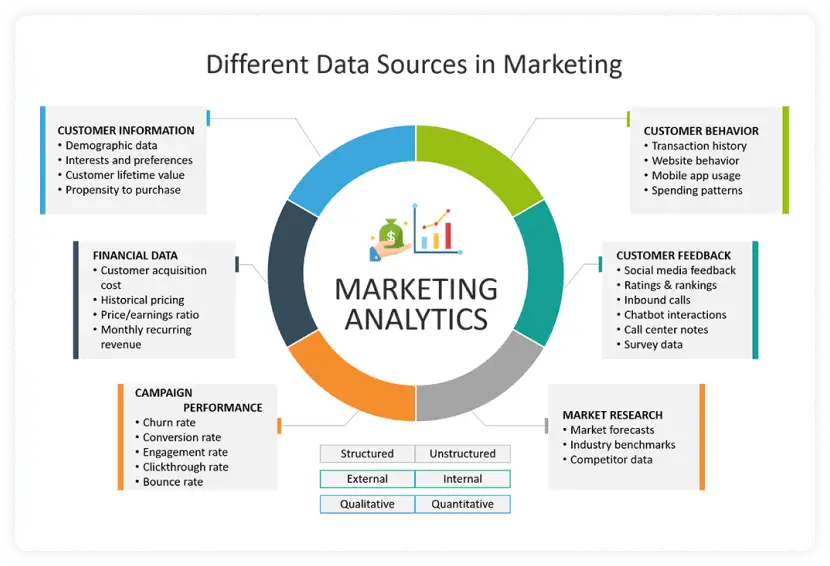 Product Analytics promises
Complimentarily to Marketing Analytics, Product Analytics promises to answer other important questions related to Product usage and Users' behavior/experience of the product:
Who are my most valuable customers? What's the DAU/MAU?
What actions do those valuable customers take? What's my CTR (Click through rate)?
Who are the customers who churn? Is it directly product-related?
What actions do churned users take? Trying to understand user journeys in the product.
What are the characteristics of highly engaged users? From the perspective of product usage.
What are my users' pain points? Regularly listing the weak points of a Startup's product alongside facilitating feedback collection & bug reports is key to minimizing Product continuous improvement. The goal here is to create a virtuous circle/loop.
Funnels help acquire customers. Loops help retain them and attract/engage new customers. This approach is the one underlying the PLG (Product-Led Growth) philosophy.
Stimpack Startup's Guide Framework: Metrics to monitor for success
Our goal at Stimpack is to provide you with a Simple Analytics framework to help you answer two clear questions:
Do I have enough traction to consider my product validated and start shipping it?
Is my product good enough to be commercially launched?
In order to achieve this, we advise you to focus on a mix of Marketing/Product analytics and metrics, among them:
Reach & Impressions: measure the total number of people who see your campaign or message.
CTR - Click-Through Rate: measures how many people clicked on an element of a campaign out of the total number of impressions.
Conversion Rate: reflect the number of conversions, such as when a customer makes a purchase, divided by the total number of visitors or impressions.
Engagement Rate: measure the levels of engagement with a particular post by calculating the number of customer interactions, divided by the total number of impressions.
Onboarding & Acquisition Metrics: the simplest and most effective for us is Onboarding Completion Rate.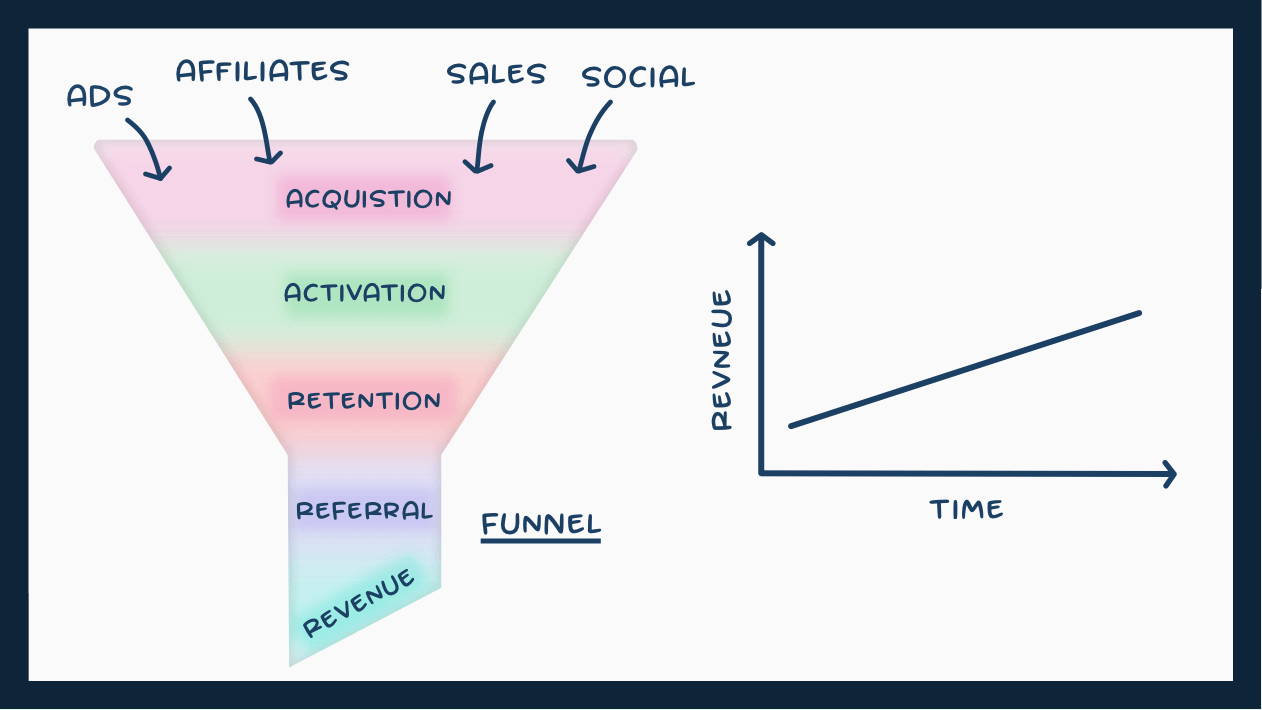 Some additional Revenue & Business Metrics we strongly encourage you to measure & monitor periodically:
CAC - Customer Acquisition Cost: measure the cost of acquiring a new customer, balancing the cost of marketing against the total number of conversions.https://www.paddle.com/resources/customer-acquisition-cost
Customer LTV - Lifetime Value: How much value each customer provides over the lifetime of their usage.
Retention Rate: How often do users come back to use the product?
Churn Rate: How often do users cancel the product?
Revenue Growth: measure the total amount of revenue earned from your campaigns, and track how it evolves over time.
Traditional Analytics Platforms: Limitations
For entrepreneurs on a tight budget, free product analytics tools are available and are great for getting up and running quickly. Popular options such as Google Analytics (GA) and Mixpanel offer powerful analytics at no cost and provide key data for entrepreneurs to get started. While these tools are powerful, they're not always the best option for more complex analysis due to their limited scope and features.
GA can be a bit of a headache as it requires complex actions/unintuitive monitoring.
Mixpanel is a great solution but does not provide a simple enough framework for Startups & Solopreneurs. It's focused on Product Analytics and suits more corporate Product teams.
Other Product Analytics alternatives include Amplitude, Pixt, Heap, and Segment. They often explore user journeys and let you create acquisition funnels.
Automated tools are also handy to collect user data and make it easy to set up and configure, so entrepreneurs can start learning about their customers almost immediately. They also tend to be more affordable than manual analytics solutions, making them attractive to entrepreneurs on a budget.
The main limitation of such Marketing Automation is that they do not provide fully-fledged Startup Experiences and unfortunately rather focus on automation. Moreover, they're not launch oriented and do not help with gaining early initial traction.
Bonus: Product-Led Growth (PLG) approach to Analytics
Product Led Growth (PLG) is a business model where the main focus is on the product offered in order to attract, acquire, and retain customers. Instead of spending resources on marketing or sales tactics to bring in customers, the focus is shifted to the product. This means making sure the product is highly usable, efficient, cost-effective, and has a delightful experience associated.
The goal of PLG is to rely on the product to bring and keep customers in the long term. It requires an iterative approach to the product where constant improvements are made based on customer feedback. It puts the customer at the center of all decisions a company takes and creates a product that solves customer problems. It will also focus on creating a connection with users through digital tools, such as email, push notifications, and content marketing. This will create an overall better experience and leave customers feeling loyal. In practical terms, PLG adds a final layer to the funnel: the "Referral" layer.
PLG often approaches customer loyalty by combining traditional sales funnels with self-nurturing Growth Loops. This hybrid approach implements a push-pull marketing equilibrium based on a combination of paid/organic traffic sources & usage.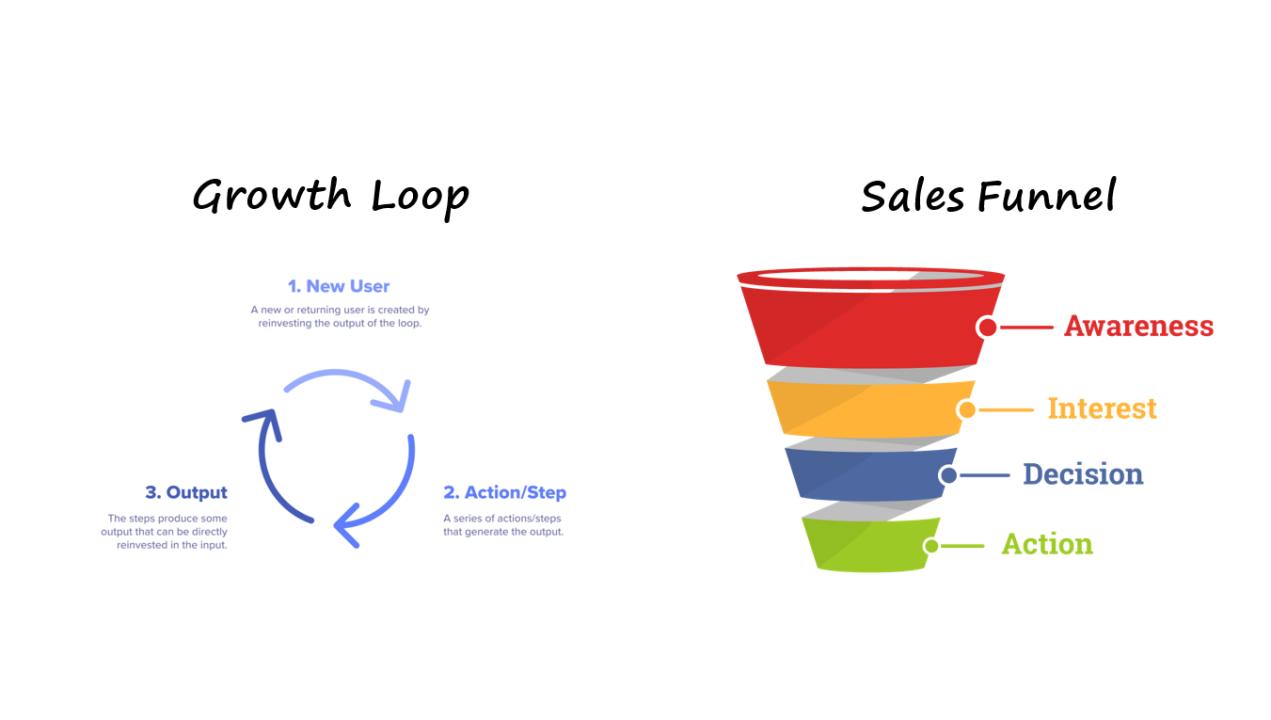 Getting on Track with Stimpack: the 1st Startup and Solopreneur Simple Analytics Platform
Product analytics tools are a powerful resource for entrepreneurs just starting out. With the right tools, entrepreneurs can quickly and easily get the data they need to make informed decisions and optimize their products for the best possible outcomes.
Stimpack is an all-in-one prelaunch platform: it's the 1st Saas conceived for product builders enabling you guys to create prelaunch campaigns, gain early traction & launch your products, the fast and easy way! Interested in being part of the adventure? We are actively looking for core users to enroll in the Alpha. It has numerous advantages compared to traditional Analytics solutions, including:
it provides you with a clear & reliable analytics framework.
it helps you gain early traction.
it's transparent and gives you ownership.
it's tailored for fast-moving startups and solopreneurs.
it's innovation-friendly and helps you experiment, ship and sell real-world products.
it allows you for fast GTM and fast launches.

Always looking forward to hearing from our fellow Stimpackers.
We are on social media,
Twitter: @StimpackHQ
Twitter: @SaidAitmbarek
Linkedin: linkedin.com/company/stimpack
Blog: blog.stimpack.io/
Saïd – Founder @Stimpack