Solopreneurs and the rise of the 1-person Saas Startups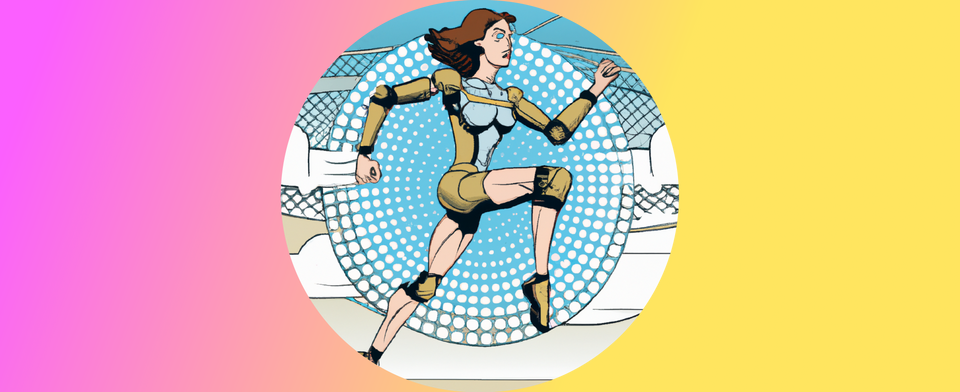 We are in 2023 and Solopreneurship is today a thing, nobody can deny that!
Indeed, we all have noticed the emergence of this phenomenon for a couple of decades. However, for some reason, it looks like it gained considerable momentum after the covid crisis. As a matter of fact, we are following the solo founder path at Stimpack.
Let's take some time to analyze the solo founder trend by answering the following questions. What motivates solo founders? Who are some famous solo founders? What do other industry people think of them? Why is this movement here to stay?
TLDR
Typical solo founder mindset
Solopreneurship: a real phenomenon
Case study: anatomy of 1-person saas startups
Reasons explaining the rise of solo founders
Famous solopreneurs
Pros/cons and practical advice
What do VCs think of this?
How Stimpack can help solo founders launch their products faster
Typical solo founder mindset
Solo founders have all something in common: they aspire to build products, market them and thrive in multi-disciplinary environments.
A solo founder typically aspires to:
to build his product prototype or find someone to build it
to market his product and grow an audience or find co-marketing partners
handle all the financials of his startup
He can be from the hacker type, the social/marketing type, or the jack-of-all-trades, master of none. The essential skill involved is adaptability to highly evolving environments and multi-disciplinarity.
We often used to believe that a startup team had to follow "the 3Hs rule". It was referred to as the MVT: Minimum Viable Team. This rule still applies to modern solo companies with a simple consideration: the solo founder has to take on all the roles.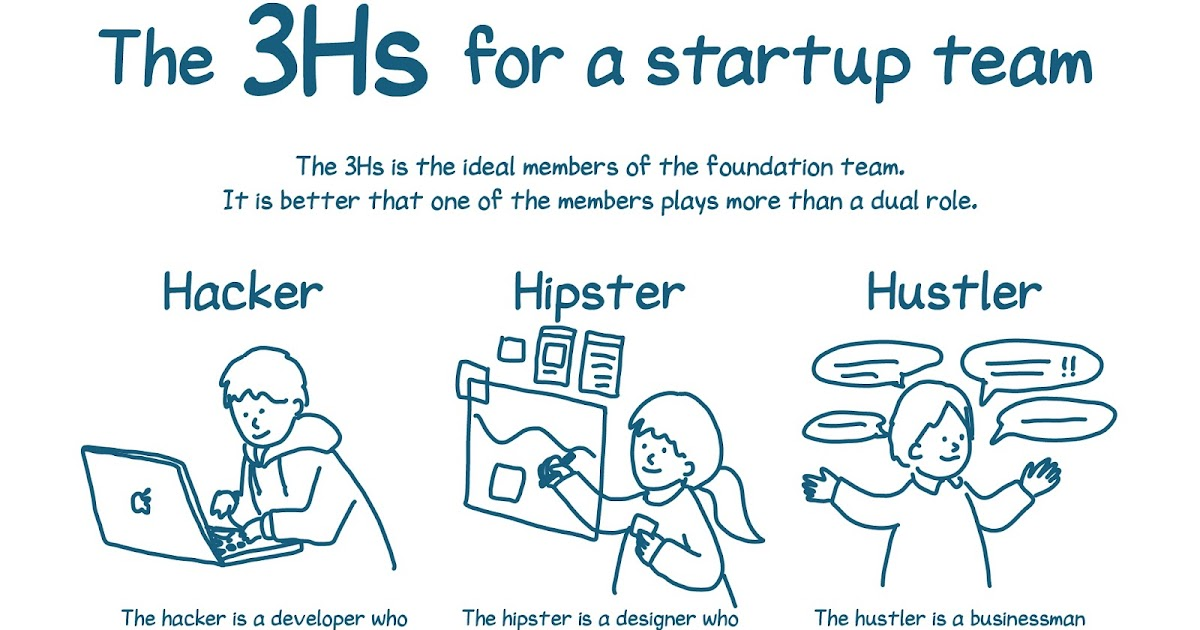 Going solo founder means being at the same time CEO, CTO, COO, and CFO of your company. Are you ready for this challenge?
Solopreneurship: a real phenomenon
There are few studies in 2023 that analyzes the roots and evolution of solopreneurship.
One of the most elaborated is: "Sole Survivors: Solo Ventures Versus Founding Teams"
It has been written in 2018, so it's a bit outdated now. However, it analyzes this trend from a precise statistical perspective.
The abstract of this study is eye-opening:

It has been taken for granted that teams perform better than solo individuals.
The study shows that this conclusion cannot stand as it is and has to be nuanced: solo founder companies tend to be more profitable and do not perform that differently from multi-founder companies. There is real evidence that solopreneurship can work wonders!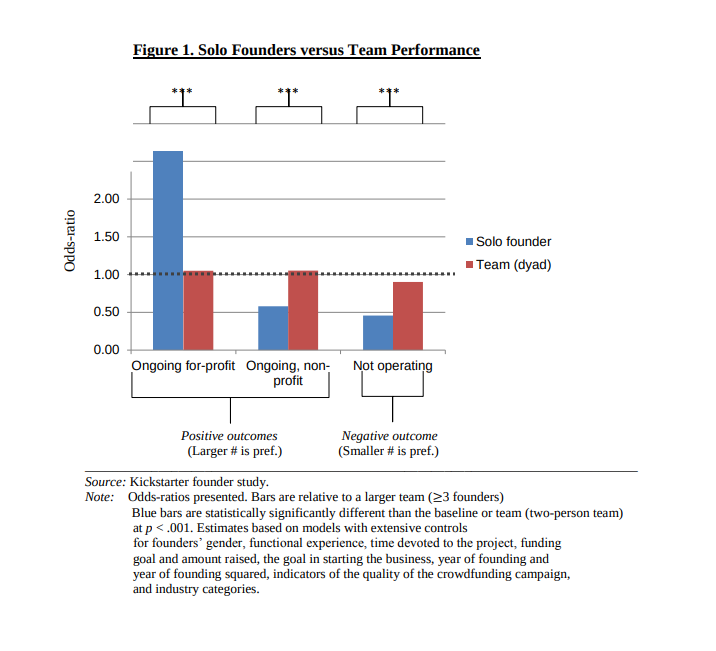 Case study: anatomy of 1-person saas startups
A solo founder is a highly adaptable individual thriving in uncertain product/market conditions. Solopreneurship is not limited to specific industries, however many solo founders tend to privilege the creation of Micro-Saas platforms.
Indeed Saas platforms tend to be quite difficult to launch. Launching Micro-Saas lowers all the risks involved. Micro-Saas make you operate on a smaller level: smaller scope, more verticality, and smaller recurring revenue expectations.
According to fundz.net, 41.8 million people in the world identify as 1-person businesses or companies. When asking the same question (about Saas startups this time) Google via explodingtopics.com, the answer looks quite different: "There are about 30k Saas in the world in 2023"
There is actually a huge gap between official Saas solo-founder and general 1-person businesses: the reason behind that is that Saas is typically the kind of product technological startups aim to build. It has for a long time been complex enough to build. Amongst the barriers:
technological complexity
operational complexity
legal complexity
marketing complexity: how to build an audience/customer base when you are solo
According to Vainu, more than 53% are 1-10 people companies; which highly correlates to our 1-person startup rise analysis.
Moreover, we want to highlight the importance of personal branding when starting as a solo founder. Having a significant audience can really catalyze all your efforts toward building and selling a digital product.
Reasons explaining the rise of solo founders
The most counter-intuitive observation is that solo-founded companies are more likely to survive!
Some reasons may explain why solo-founder startups have higher "resilience" levels:
expenses are lower for 1-person companies (salaries)
leadership dynamics are simpler, and decisions are longer to be taken with multiple co-founders.
fewer compromises to make: you can pivot easier and boldly.
In another study from HBR, a really important statistic was presented: "about 43% of company founders are forced to buy their co-founder's shares after breakups and leadership struggles". Everybody wants to avoid such situations.
Some other explanations suggest that vertical businesses are often privileged by solo founders. Such businesses often aim to build micro-niche products in those verticals. This may result in "hyper-specific and profitable" solo companies.
Finally, the way we are building companies is definitely changing: with predictable growth levers and barriers to entry falling away, distribution alongside product creation has become so much easier today than ever.
At Stimpack, we believe that we are today in the era of Micro-saas solo companies!
Famous solopreneurs
According to Failory, about 238 solo founders were at the origin o Unicorn-level companies.
Pros/Cons and practical advice
We have compiled a list of the pros and cons of starting your Solo founder's journey. Beware that this list cannot be exhaustive, it just indicates some commonly accepted benefits and disadvantages of starting a solo company:
Pros
You can move faster: lean decision making
Better Timing and avoiding compatibility issues
There is less drama (legal actions avoided)
The direction is clearer, fewer compromises
Cons
You are rarely challenged: your personal bias may trick you into following the wrong path.
You'll likely feel lonely, with no team to celebrate wins or team rituals
You obviously execute fewer tasks solo than with a team of co-founders.
Potential Emotional Drag, which can also be seen as a pro
Practical advice for solo founders
Our best advice is you choose to start your solo journey:
develop relationships with other solo founders and engage in social media or IRL events
be part of communities of other founders
consider creating your own mastermind
talk about your product, a lot: aspire to be challenged. Ask for roasting sessions, and collect feedback: negative alongside positive. The idea is to minimize the decisional bias inherent to being a solo founder.
Have fun with your friends, exercise, and keep good relations with your first circle of relatives.
Consider working with co-founders if you struggle too much or feel you'll clearly leverage a lot more this way!
What do VCs think of solo vs. teams?
Investors tend to generally prefer teams. The fact that you may not have a co-founder has historically been a reason for a VC to pass on your pitch deck.
However, things may change with this current fast-moving micro-saas movement.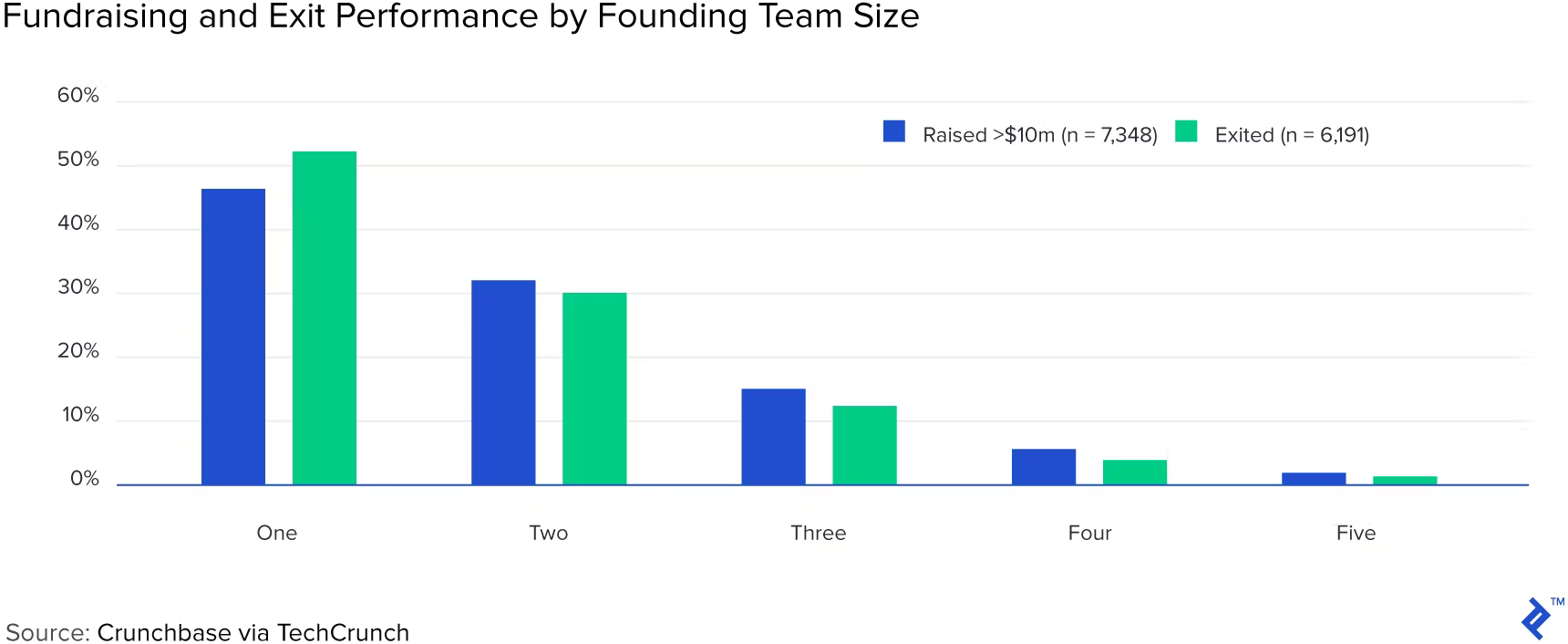 How Stimpack can help solo founders launch their products faster
We have created Stimpack, the 1st all-in-one Saas platform conceived for product builders enabling you guys to launch your products, the fast and easy way!

Our solution is the perfect one for solo founders. It will definitely help you:
define your idea and optimize your audience relationship
gain initial traction for your product
make key pivotal decisions with higher confidence
go-to-market blazingly fast
actually, build the product and launch it!
We aspire to help and empower solo founders
as a CEO: we help you find ideas/pitches and validate them using social media
as a CTO: we help you build your products and ship/launch them faster
as a COO: we provide you with analytics and methods to grow your audience, focus on your product and gather feedback
as a CFO: we don't help, except we're saving you tons of money and time! No need to hire X people, just a few clicks.
Hope to bring you maximum value with anything related to efficient launches!
Always looking forward to hearing from our fellow Stimpackers.
We are on social media,
Twitter: @StimpackHQ
Twitter: @SaidAitmbarek
Linkedin: linkedin.com/company/stimpack
Saïd – Founder @Stimpack
Sources:
* https://mitsloan.mit.edu/ideas-made-to-matter/2-founders-are-not-always-better-1
* https://startupguide.hbs.edu/people/founding-team/going-solo-founding-a-startup-without-a-co-founder/
* https://baremetrics.com/blog/startup-solo-founder#:~:text=The pros of being a solo founder&text=When you're able to,make that decision a reality.&text=There are countless stories of,get out of control quickly
* https://www.forbes.com/sites/forbesbusinesscouncil/2022/07/19/how-solo-founders-succeed/?sh=498e895589b6
* https://www.antler.co/academy/pros-cons-of-being-a-solo-founder#The advantages of being a solo founder
* https://www.toptal.com/finance/startup-funding-consultants/single-person-startup