Tech startup ideas anyone can bootstrap in no time
Startups are our future, build your own
Create innovative products, market and launch them fast
Get Stimpack
In our modern technological era, multiple phenomenons are opening the way to startup democratization: from the pandemic to the rise of solopreneurship and recent breakthroughs in generative AI, our present times are fascinating.
As traditional "brick-and-mortar businesses" shift to digital platforms, the opportunities for tech startups have exploded. Furthermore, the accessibility of cloud computing technology and open-source software, alongside the cost of launching a tech startup has drastically reduced.
This, combined with a global workforce capable of remote work (referred to as WFH), equates to the ideal time for diving into a tech startup venture.
Remember, the next billion-dollar tech idea could be on your mind. You just need an internet connection and a laptop.
It's definitely time to give it a shot!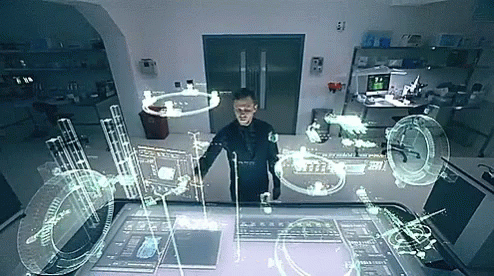 Choose your favorite tech industry
As a rule of thumb, choosing an industry you have expertise and experience in is the best way to make sure you are able to unveil gaps in the market. With the years, you may develop an intuition for identifying what people in your industry are struggling with.
Tech startups breakdown by industry
Diving into the diverse world of tech startups, the chart below (for 2023) helps us explore the most promising tech industries.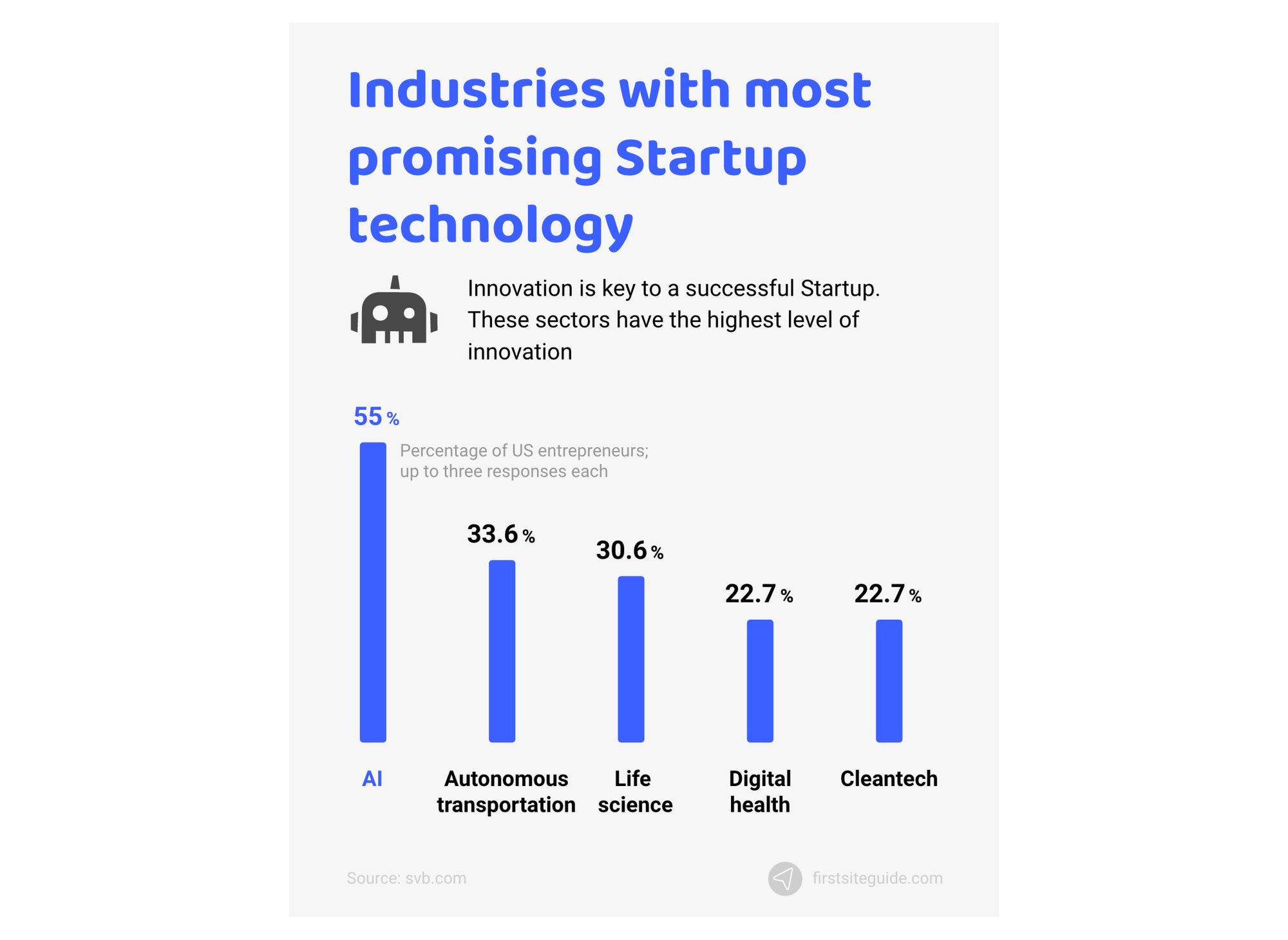 Focusing on tech industries that have already proven some traction is key to success. By doing so, you'll maximize your chances of building a startup that could profit from industry momentum.
In 2023, AI is one of the most innovative fields. OpenAI just announced ground-breaking features around its GPT4 technology. From personal assistants to fine-tuning (using your own data) and information retrieval, AI is undeniably consolidating its place in our technological infrastructure.
Concurrently, many other industries benefit from a huge demand and forecasted growth (look for CAGR indicators). Some of them are:
The transportation industry: mobility first, ride-sharing, mostly logistics optimization problems under constraints.
The Life sciences and healthcare sector: undeniably one of the hottest fields with powerful diagnostic tools, from the Messenger RNA technology to the CRISPR Cas9 scissors for DNA sequence editing. Just amazing!🤯
Clean technologies are key solutions to the Global Warming Problem.
FinTech has been revolutionizing our daily lives for more than a decade.
The Retail sector: startups are refining customer experience with AR/VR tools and predictive analytics.
EdTech startups are leading the field of virtual learning environments and AI-based tutoring.
A surge in Agtech startups is transforming the field of agriculture by integrating IoT and AI for efficient and sustainable farming.
The perspectives are vast, any one of these fields promises double-digit growth in the next couple of years.
Bootstrap your next tech startup: a list of ideas
We carefully curated a list of innovative tech ideas for future startups. As you may know, our mission at Simpack is to provide founders and builders with the best tools to conquer their financial freedom and concretize their vision of a better society.
Use our shortlist as a basis for reflection or just give a try to any idea presented below:
| Industry | Idea |
| --- | --- |
| AR/VR | Unique reality-augmented museum visits. |
| AR/VR | Revolutionize real estate, improve conversions, and reduce property visit logistics friction. |
| AR/VR | VR applications for Edtech: learn with fun. |
| Green Tech | Solutions to renewable energy production. |
| Green Tech | Solutions to waste management. |
| Green Tech | Climate tech: IoT arrays and analytics. |
| AI | Hub for all your AI assistants. |
| AI | Specialize in tailoring customized AI skills or assistants. |
| AI | Provide NLP services and new voice-based interfaces. |
| UX | Disrupt UX by providing automated AI audits and selecting the best UX paths to maximize user engagement. |
| UX | Transform any UI/UX artifact into a functional code component. |
| Blockchain | Focus on DeFi, NFTs, interoperability, or come up with a way to speed up transactions. |
| Cybersecurity | API-first tailored Cybersecurity as a service for startups. |
| Marketing | Product Analytics solution to understand user behavior and drive conversions up. |
| Marketing | Generate content that aligns with brands. |
| Marketing | Provide personal branding services. |
| Streaming | Influencers tend to focus on streaming services to boost their reach across platforms. |
| Agtech | Promote sustainable agriculture through AI, big data, robotics, IoT, and vertical farming. |
| Fintech | Smart banking services help you optimize your financial planning. |
| Fintech | Assets managers for retail investors. |
| Edtech | Virtual classrooms and virtual research labs. |
| Edtech | AI teacher assistants. |
| 3D printing | 3D Designs automated generation. |
At this point, the possibilities are infinite. This list is voluntarily short, we plan on improving it regularly. Feel free to pick any idea above and start experimenting with it.
---
📢 You've now picked a startup idea, wondering what's the next step? We have good news for you! Stimpack is the product growth platform you need: not only is it affordable, but it'll help you bootstrap your startup in no time.🤩
🚀
Stimpack
helps you gain early traction on various social channels, boosts your product analytics, and creates your landing pages in no time. It's the best way to build startup-grade foundations and seamlessly launch products in just a matter of weeks.
Stimpack is your next-generation early-stage product growth platform.
Building a Startup is more than building a product
Besides building a great product, you have to make sure your startup goes beyond the MVP. This involves understanding market demands and tailoring strategies to meet these needs.
In fact, you have to take into account that:
Strategies are necessary to stay ahead of your competition by constantly innovating.
You have to put in place frameworks and processes in order to ensure the best operations.
Your product is part of this strategy, but there's a necessity to consider wider factors, including how the product can generate revenue.
Your marketing efforts and brand identities (corporate or founder brands) are key to success.
You have to make sure your company's successful in the long run: it starts with healthy financial planning, taking into account regulatory frameworks and legalities.
A great customer support service is mandatory, probably as important if not more than your product. Making your customers happy will indirectly drive more interest toward your startup. It will also undeniably lower your churn rate.
And much more...
We hope you're now fully ready to prepare, build, and launch your next startup. We encourage you to use Stimpack as your early-stage startup operational framework: we've tailored it for you!
That's all for today folks, stay tuned for more insights. 🤗
Curious about Stimpack for early-stage startups and solopreneurs?

Stimpack is your next-generation early-stage product growth platform.
Our all-in-one product will help you create digital products, gain early traction, find your first early adopters and future customers; and launch products faster than ever.